Mitton's OT Winner Sends Raiders to Title Game
by Joshua Seguin/Staff Writer (@JoshSeguin24)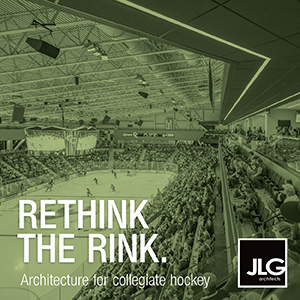 LAKE PLACID, N.Y. — History repeated itself for Colgate on Friday night against Quinnipiac. Colgate hopes the same history doesn't repeat Saturday.
In 2014, the Raiders had a chance to win long-time head coach Don Vaughan's first ECAC Tournament title in a career that has spanned three decades. That season, they defeated Quinnipiac in the ECAC semifinal and ultimately were gassed the next night against a really good Union team.
That semifinal game, like Colgate's game against Quinnipiac in this year's ECAC semifinal, went to double overtime.
Ross Mitton scored the game winner eight minutes, 50 seconds into the second overtime for the Raiders, who will look to give Vaughan his elusive title Saturday against the Cornell/Harvard winner. The final was 2-1 after teams traded regulation goals.
"Our plan was to just get shots on net against (Quinnipiac)," Mitton said. "I was able to get the puck in the slot and I was able to put us home. I am still shocked right now and I am just super excited we get a chance to play for a championship tomorrow."
Vaughan, who has been coach at Colgate since 1992, knows it may ultimately be his last shot at a Whitelaw Cup in his long coaching career at the helm of the Central New York School. For all his longevity in his position, the long-time bench boss has made it to the ECAC final just once.
Colgate's only ECAC Tournament championship came in 1990, with Terry Slater as head coach. That team lost in the NCAA championship game. Slater passed away in the middle of the 1991-92 season, and Vaughan took over the next year.
Mitton, a junior from Long Island, was relentless on the puck all night and it seemed like he would be the one to end it, at some point. As the game went on, his leadership seemed to will Colgate along, while Quinnipiac struggled to find an answer.
"Colgate I thought was excellent tonight," Quinnipiac coach Rand Pecknold said. "They are a great hockey team, with tons of talent and they are better than their record. Mitton is a tenacious player to play against and I thought he was the best player on the ice tonight."
Colgate's 47 shots were easily the most Quinnipiac allowed in any game so far this season. Even the 33 regulation shots were fourth-most allowed, with the others coming early in the season.
Mitton, who has scored many of…
Click Here to Read the Full Original Article at College Hockey News from CHN…