by Belle Fraser/CHN Reporter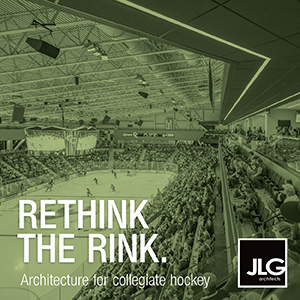 BOSTON — Boston University needed a spark after dropping four straight games in February. With an explosive past month, Nick Zabaneh has been exactly that, and most recently netted a hat trick in Saturday's Hockey East quarterfinals. The junior forward has a gritty edge, skates with real heart and has been a strong addition to the Terriers' offensive depth in the second half of the season. 
"Really happy for him," head coach Jay Pandolfo said of Zabaneh following his team's 7-3 victory over UVM. "He's earned everything that he's gotten this year. He started out earlier in the season not playing a ton, but he has earned it."
Zabaneh has been in and out of the lineup for much of his BU career. Known for his speed, he was always a good guy to throw out there for energy but had yet to secure a consistent spot. The Toronto native only had one goal and 10 total points in the 2021-2022 campaign, but he came back this year ready to prove himself at a new level. Now with 12 points (eight goals and four assists), Zabaneh has become a bottom-six staple.
"It was a tough start to the year, but I just tried to stay positive," Zabaneh said. "I was in the gym a lot, I was on the ice a lot just trying to get better. Obviously if I wasn't in the lineup there was a reason why. So don't get down on myself and I just tried to get better every day."
The center has found tremendous chemistry with right winger Dylan Peterson, who had the primary assist on all three of Zabaneh's goals against the Catamounts. Both Jeremy Wilmer and Jamie Armstrong have slotted in as the third man on that line, and it arguably brought the Terriers back to life after had hit a bit of a lull around Beanpot time. 
"I think the big thing for me and him is that we think the game similar just in terms of plays and where we're going to be and stuff," Zabaneh said of his connection with Peterson. "I don't even have to really look and I know where he is on the ice. It makes it a lot easier playing with a guy like that."
Named the Hockey East Player of the Week on Monday, Zabaneh puts himself in contention for BU's most improved player this season. He has turned into a difference maker and the team is better as a whole when he's on the ice. That's been the goal all along, Zabaneh said, as his main focus is to…
Click Here to Read the Full Original Article at College Hockey News from CHN…