UConn, Sacred Heart Earn 1st Wins in New Arenas
CHN Staff Report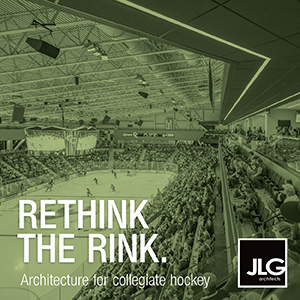 Coming off an emotional shutout win against first-place Quinnipiac on Friday, some letdown was expected. But if Cornell wanted to get a much-needed home sweep, it couldn't afford to let down too much.
The Big Red were stymied most of the night by Princeton at 5-on-5, but did just enough, particularly on the power play, where they got three man-up goals in a 3-2 win.
Freshman Dalton Bancroft ripped in a one-timer from the left faceoff circle in the third period, giving the Big Red the edge. They were able to clamp down from there behind 28 saves from Ian Shane.
"We just found a way to win tonight," Cornell coach Mike Schafer said. "The power play carried the day for us. We didn't win as many battles, so that's a credit to [Princeton]. They played hard, which they always do, and I thought we did enough to get the job done tonight."
Cornell moved to within one point of second-place Harvard with two games in hand. The teams play at Harvard next weekend. The Big Red also edged past the Crimson in the Pairwise, moving to No. 10 while Harvard is now 11th.
Bancroft, who also had an assist on Cornell's first goal, was joined by junior forward Gabriel Seger and fellow freshman forward Sean Donaldson in the scoring column. Senior defenseman Sam Malinski assisted on all three goals for Cornell (12-6-1, 9-3-0 ECAC).
Elsewhere in the ECAC …
Quinnipiac came into the weekend a perfect 12-0 in the league. The Bobcats are now 12-2. Friday they were shut out at Lynah Rink. Saturday, Colgate overcame a 2-0 deficit to win 3-2. The tide turned on a pair of QU penalties on the same shift, creating a 5-on-3, during which the Raiders converted. Still trailing 2-1 in the third, Colgate scored twice in the first half of the period, and Carter Gylander stopped all 11 Quinnipiac shots he faced over the final 20 minutes.
Colgate, which moved past Princeton into the important fourth spot in the league with a win over the Tigers on Friday, got some further separation after Saturday's games.
Brown scored a pair of goals in the second period to help take down Harvard at home. The Crimson outshot Brown, 19-2, in the third period, but were only able to get a goal in the closing seconds to make it a one-goal game, 3-2. "I thought we played really, really good defense and when they turned it up in the third a little bit…
Click Here to Read the Full Original Article at College Hockey News from CHN…