by Adam Wodon/Managing Editor (@CHN_AdamWodon)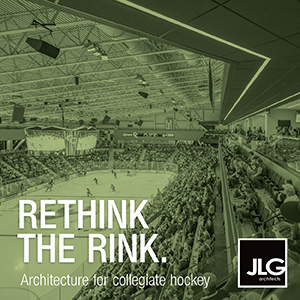 If you like offense, have we got a team for you.
Western Michigan scored another 11 goals this past weekend. It scored 16 the two games before that. The Broncos' 4.3 goals per game is sixth-best for any team over the last two decades, just behind the 2004 North Dakota squad that featured Zach Parise.
For a team now sitting No. 10 in the Pairwise, the question going forward is whether they can get enough defense to become a legitimate national championship contender.
Sometimes they can and sometimes they can't. And fairly or not, that often rests on the shoulders of goaltender Cameron Rowe, the junior transfer from Wisconsin. WMU brought Rowe in late in the process last offseason, when it unexpectedly lost top netminder Brandon Bussi. Between that and losing top scorer Ethen Frank, among others, it was thought WMU would take a step back.
But that hasn't been the case.
The whole ball of wax was on display in Grand Forks this past weekend.
First, Rowe was tremendous in shutting out North Dakota, 4-0, on Friday. The shots in the game were 27-25 in favor of WMU, but that was deceiving; North Dakota had many more high-danger chances, especially in the first period.
"We hadn't played in 10, 11 days," WMU coach Pat Ferschweiler said. "Cameron was terrific until we got our feet under us."
Then, one of the great stories of this season so far, senior forward Jason Polin, scored two more goals (he leads the country with 21 in 24 games). He fended off getting shadowed and broke free in the third period. He ran out of time for another hat trick — he has five this season.
"They obviously keyed in on that line, and they should," Ferschweiler said. "They were physical against him, they were hard against him. They took a major penalty against him. But none of that bothers him. He is unfazed and just takes the next shift, the next opportunity, and creates. It's so impressive his will not to be denied, leading this team in every way he does. … There's no outward cockiness. But the inner confidence he has from doing it right every day, and that knowledge he carries with him from doing it right, it just comes out in his play. He's prepared for situations."
Going into the period, up 2-0, the Broncos held North Dakota to just four shots on goal, in the Hawks' own building.
Saturday, though, Western…
Click Here to Read the Full Original Article at College Hockey News from CHN…