CHN Staff Report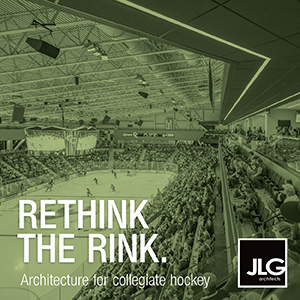 Ohio State senior defenseman Kamil Sadlocha is "returning home," one day after it was revealed that he was kicked out of a Nov. 11 game against Michigan State for uttering a racial slur at Spartans forward Jagger Joshua.
Following a day of criticism for not acting, Ohio State athletic director Gene Smith released a statement late Tuesday night apologizing to Joshua, and adding, "Over the last week, the Department of Athletics has worked through this on-ice incident and spoken with Kamil Sadlocha and the rest of the team, and Kamil is returning home and will not practice or compete at this time."
Monday evening, Joshua tweeted a statement expressing his frustration at Ohio State and the Big Ten for failing to take action agaist Sadlocha. Though he didn't mention Sadlocha by name, he mentioned an incident in the Nov. 11 game where an opponent was ejected for using a racial slur. Sadlocha was the only one ejected from that game.
Joshua's comments were met with an outpouring of support in social media, including statements from numerous former players. Vimal Sukumaran, a former player at Providence who was subjected to a racial slur during a playoff game against Boston College in 2019, said, "The choice to not hold players accountable for these actions is cowardly. Until there are consequences for these players actions, there will never be change."
Others who weighed in included former NHL defenseman P.K. Subban, former Michigan State star Anson Carter, and Joshua's brother, Dakota Joshua, who is an OSU alum is is now playing in the NHL for Vancouver.
The Big Ten and Ohio State originally released statements Monday saying they had investigated the incident and concluded that no further discipline was warranted.
Joshua, during his media availability after practice Tuesday, said Sadlocha uttered racial slurs "multiple times."
"(The decision) left me just confused and frustrated with feeling like my voice doesn't matter," Joshua said. "That's one of the reasons I took to social media myself, and because obviously, the Big Ten wasn't listening to what I had to say, so I felt the need to express my feelings myself, because I just believe that, if nobody's gonna stick up for myself, then I got to."
OSU finally responded to the criticism late Tuesday. In addition to mentioning Sadlocha's departure from the…
Click Here to Read the Full Original Article at College Hockey News from CHN…